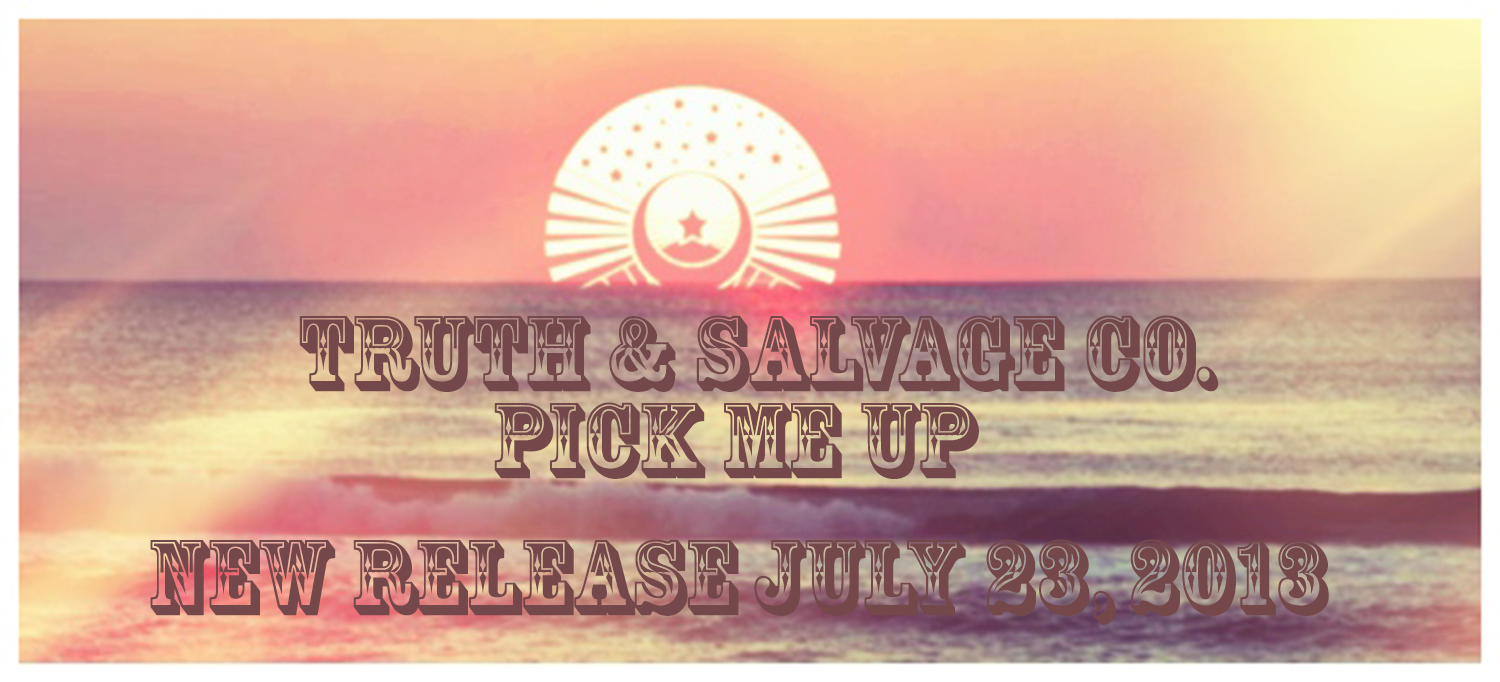 (FOR IMMEDIATE RELEASE — MAY 2, 2013 )

TRUTH & SALVAGE CO. return July 23 with their second album PICK ME UP (Megaforce/Sony RED), a work that powerfully builds on their stirring blend of rock and Americana introduced on their acclaimed 2010 self-titled debut album. Distinguished by their four lead vocalists and five songwriters, plus soaring four-part harmonies and a strong guitar-keyboard meld, the band co-produced the album this time around with Jon Ashley, while longtime band cohort Bill Reynolds (Band of Horses) handled the mix. It is a joyous tour de force recorded at Echo Mountain studio in Asheville, NC that features 12 original tracks and a cover of Joe South's Grammy-winning 1968 hit "Games People Play."  Opening with the plaintive "The Bad Times," the album shifts into high gear with "Silver Lining" and keeps the highlights coming with such songs as "Appalachian Hilltop," "Bird On The Wing," "I'm Not Your Boyfriend," the title track and the rollicking "So Sad." Look for TRUTH & SALVAGE CO. to announce a tour to support PICK ME UP.
The band–Scott Kinnebrew (guitars/lap steel/mandolin/vocals), Tim Jones (guitars/vocals), Walker Young(piano/organ/accordion/vocals), Adam Grace (organ/piano/Wurlitzer/additional background vocals) Bill "Smitty" Smith (drums/percussion/vocals), and Dean Moore (bass/ additional background vocals)–has ties to Asheville, where Kinnebrew, Young and Smith played together before relocating to Los Angeles and starting TRUTH & SALVAGE CO. with Jones and Grace.  Growing into a potent live act that's hit the road with The Black Crowes and the Avett Brothers, the band toured for a year and a half on the first album before relocating to Nashville.
True to its title PICK ME UP, this is an album that soars. Tim Jones says, "We liked the triple meaning of 'pick me up,' how you could not only be asking someone for a ride, or literally encouraging someone to pick up the album, but also how it's a metaphorical lift, which we were feeling we needed throughout the process." Walker Young adds, "Lyrically we wanted that song to have an inspiring message, it's talking about hope and perseverance in the face of loneliness and just the challenges of everyday life.  The sonic mix we ended up getting matches the vibe perfectly, I think.  It's definitely a feel-good album…we were going for joyous revelry, music that would inspire the heart and mind."
Scott Kinnebrew says the time between their first and second albums helped them grow: "We have had, really, four years since recording our first record and we have been playing our asses off. So we are better players." Adam Grace elaborates: "For this record, we just wanted to record what we do live onstage every night.  We kept things loose, had a bunch of fun, and just played and sung our hearts out.  The result is a record that shows the real chemistry we share.  You can hear it oozing from every song." 
TRUTH & SALVAGE Co.'s multiple lead singers and songwriters gained them a legion of fans, including Chris Robinson of The Black Crowes, who produced their first album.  They released their debut in 2010, which was a noteworthy year for TRUTH & SALVAGE CO.: "More Than 103,000 Miles…Crossed Mississippi River 21 Times…732 Hotel Rooms…and 312 shows," to quote the words that appear onscreen at the outset of the band's video for their signature live-show-closer, "Pure Mountain Angel," a song the group performed on their national television debut on "Jimmy Kimmel Live." In his Rolling Stone review of the debut, David Fricke called it "…everything you need for a classic-rock party: muscular treble guitar, Hammond organ and four singer-songwriters harmonizing…(6/24/10)"
TRUTH & SALVAGE CO. were cited as a "Top 10 Band To Watch This Summer" (2010) by USA Today and Rolling Stone's Fricke added, "This sly California sextet draw on irresistible history (Buffalo Springfield, the Band) to spell out the modern trials of peace and love…Truth and Salvage Co. have what it takes for a long haul, in the country-R.E.M. breeze of '101' and saloon glow of 'She Really Does It For Me.'"